If you have never been to the real "Maldives", just come to China's "Maldives" for fun, which means the Wuzhizhou Tourism Zone, whose tickets include ferry tickets. And there are many people queuing up on the island. There are two routes running at the same time, which can be reached the island in 20 minutes. In the middle of the island it is a commercial area and a coral hotel. On the left side there is an area where the water entertainment items at your own expense and the beach, and on the right, it is the battery car waiting area. Tourists around the island can't walk, they have to take a battery car. There are two kinds of car prices: 80 yuan to stop at two attractions, 120 yuan to stop at six attractions. The driver will explain every attraction for tourists on the way. At the same time, you can see the most beautiful scenery on the island. Looking at the sky and the sea, you can also feel that the waves are tempted to beat the reef. There are also many water projects, whose prices are transparent, and there are packages and individual items. If you don't want to take part in the water project, you can look at the sea, step on the sand, step on the water, to have a different taste. People who like to play the sports projects on the island can buy the package, as all items can be played.
When you go to the island, you must choose a big ship, as the small boat fluctuates too much, and it is closed. It's easy to get seasick. It takes nearly an hour to get on the ship after you get off the island.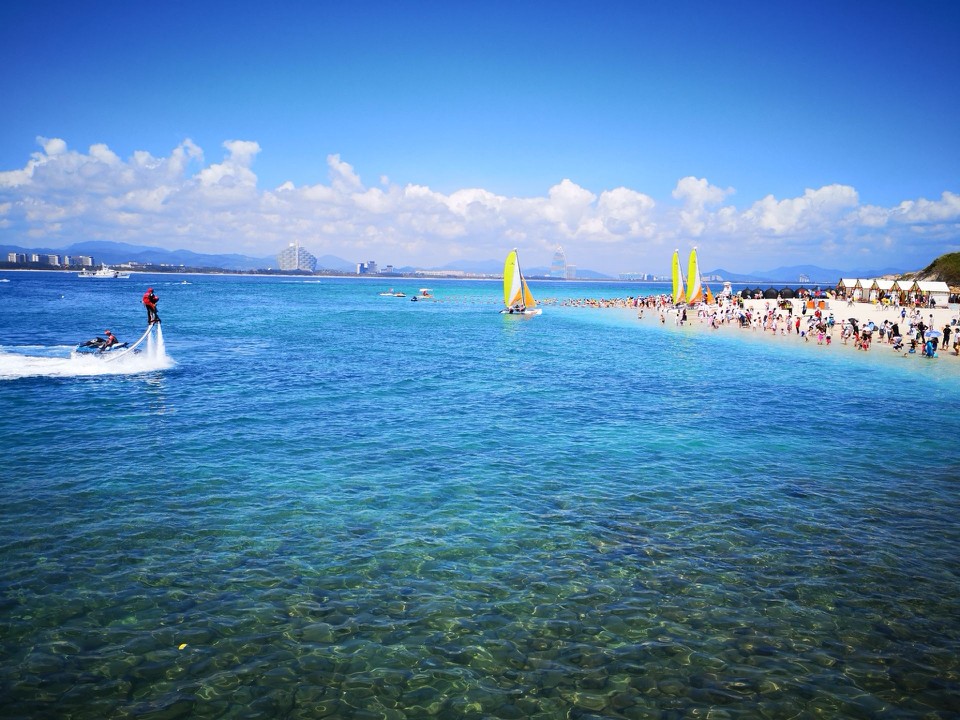 Wuzhizhou Island is a must-see attraction for Sanya tour in China. It is a paradise on earth. The scenery on the island is beautiful, and the shape of the beautiful flowers can be seen everywhere in the island, and there are privately-made shooting places. The Lover Bridge is very beautiful, but the most beautiful scenery is at the seaside, as the sea is really crystal clear. It is a great place to have holidays or honeymoon.